It's the night of Michael Phelps' last race. Sitting here and counting down the minutes, I am overcome with conflicting thoughts and feelings – trying to make sense of what he has meant to be over these years and what his retirement means to me now. Waiting for this last race, all I can think about are the things that I will miss. I will miss seeing Michael walk out onto the deck wearing his warm up coat. I will miss the freaky arm flap and the dramatic pre-race montages. I will miss the nail biting finishes and pure elation that follows. But most of all I will miss knowing that when I watch him race, everyone else will be watching too and we'll all and hoping for the same result.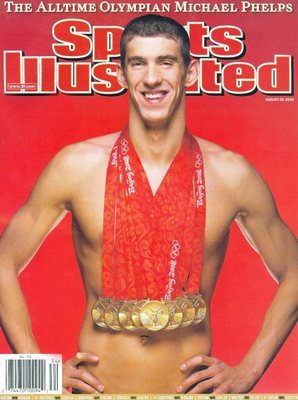 I'm not a competitive swimmer. I'm hardly a competent swimmer, but over the past few years Michael Phelps has become an important part of my life. Before 2008 I dreaded the Olympics. All of my normal programming was disturbed for an achingly long 16 days to show sports. What a cruel fate! But in 2008 something shifted. I sat in a bar in Asbury Park, NJ and, with no prior interest in sports or swimming, watched Michael Phelps win gold. Something in my heart and in my mind changed. I suddenly felt uplifted and irrationally invested in his quest to win 8 gold medals. After that night it became an obsession. I raced home each night to watch him win – and that's all he did. Sure, it's easy and quite frankly very fun to root for someone who was considered by most to be the best, but there was something else about this guy that kept us interested. It wasn't just him, it was what he represented.
Sure I could go into a long winded essay about how "Michael Phelps is America," but I won't. What I will say is that Michael Phelps represented something important to me and to all of us. Watching him made us realize that the impossible wasn't that impossible. That maybe hard work and determination really could get you want you wanted. He gave us hope and something to hope for. He gave us something to talk about, something to care about and something to cheer for. He took us out of the 9-5 grind, the mundane daily chores, the same settled routine and got us excited. He motivated us. He made us believe that it was possible to strive for excellence and even reach it. He made us think that even if we could never be as great as he was, we could, at the very least, try to be the best version of ourselves. I might not go down in history as the most decorated Olympian of all time, but I could try a little harder to be better at the things that I actually do – to work harder and my job, to be a better friend, a better daughter, and to have the courage and determination to follow my own dreams - whatever they may be.
Now it's 2012, and the feelings are all the same. Granted, some of us may have lost interest over the last few years - we have kids to feed, bills to pay, jobs to go to and many other tasks that need our attention. But every four years, the world stops to witness something spectacular. This time around, at least for me, a tiny cloud had been cast over the London Olympics because of one thing. Michael would retire after completing his 7 events. I was still glued to my television, cheering louder than ever but after 4 hours of primetime coverage each night, I dreaded falling asleep and waking up one day closer to the end. Seeing him become the most decorated Olympian of all time was nothing short of extraordinary but it was marked with a poignant sadness, knowing it would all be over in a few short days.
It is quite possible that in my lifetime, I will never again witness greatness of this magnitude. Maybe I have a flare for the dramatics but it cannot be denied that the records he set, broke and re-broke, are going to stand for a very long time. When I'm an old lady I will tell rowdy grandchildren, who probably won't care to listen, that I watched Michael Phelps not only win 8 gold medals during the 2008 Olympic Games, but also watched him become the most decorated Olympian just four years later. I will talk about him the way my parents talk about people like Muhammad Ali. I will say things like "I wish you could have seen it" or "you had to be there" – because I did, and I was. I witnessed history. I saw greatness with my own eyes.
As the games come to a close I realize that he's not really going anywhere. He's not dying or moving to some remote undisclosed location never to be seen or heard from again, but his departure is, for lack of a better expression, the end of era. Soon we'll all be back to the daily grind, back to the chores, back to the bills. But something this time is different. We're all changed having watched him and we're better for it. Now that he's retiring I ask myself "who do we have to cheer for now?" I think now that maybe it's not another superstar, maybe it's not even another athlete- maybe it's ourselves. And maybe it took a legend to help us realize that. To realize that we, too, can be great. For that, I am especially thankful.
Thank you, Michael. For everything.